Welke spullen moeten in mijn truck aanwezig zijn?
Publication-date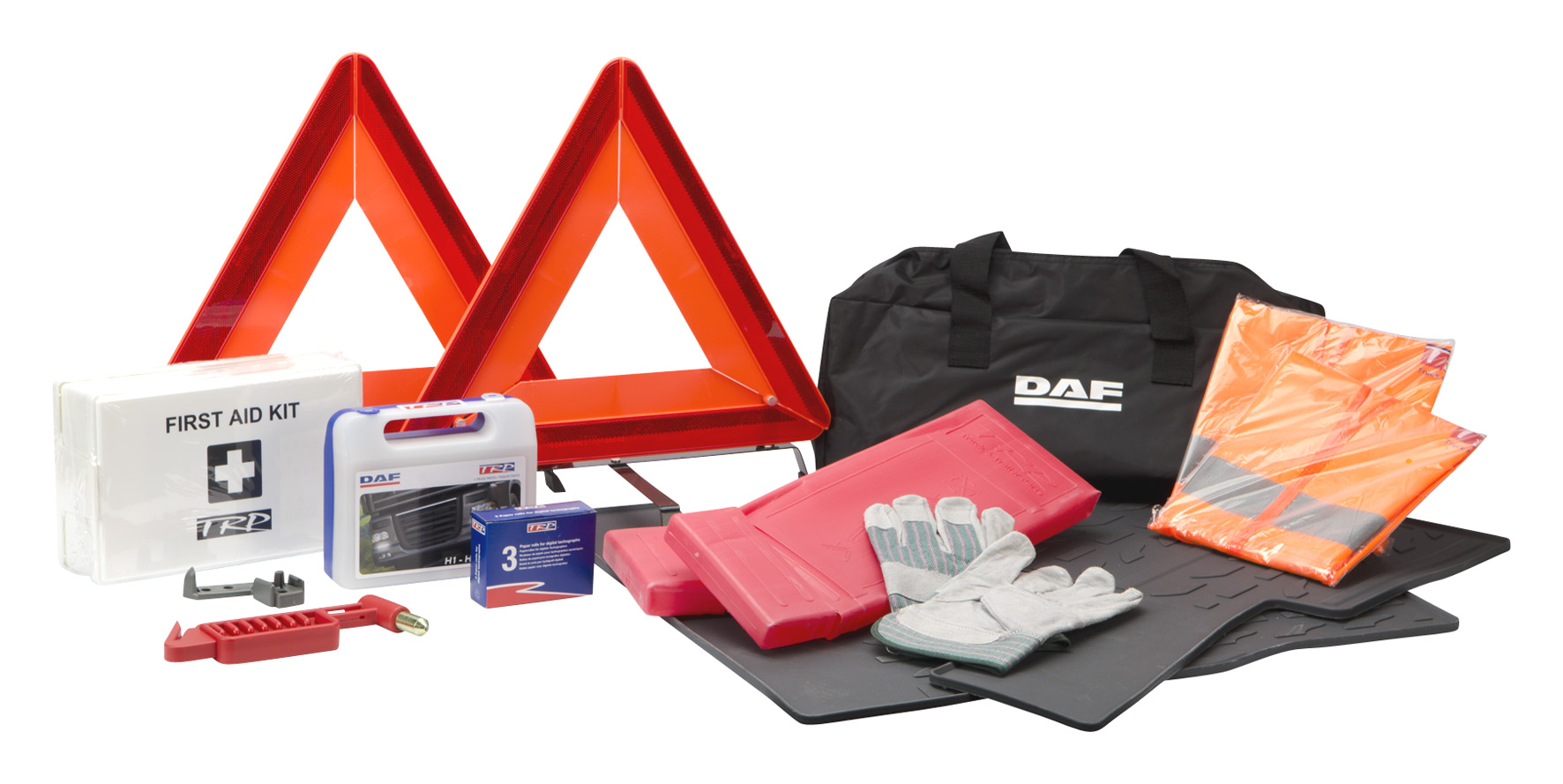 DAF trucks zijn standaard uitgerust met een aantal systemen en onderdelen die het rijden veiliger maken. Daarnaast is het aan te raden een aantal spullen altijd in de truck aanwezig te hebben. Check hier of u alle veiligheidsitems in uw truck heeft liggen.

Verbanddoos
Een verbanddoos (of EHBO-koffer) bevat alle materialen die nodig zijn bij het verlenen van eerste hulp. Mocht de chauffeur onverwacht gewond raken, dan zijn alle spullen aanwezig om wonden te behandelen en te verbinden. Belangrijk: vul de inhoud zo snel mogelijk aan wanneer er iets gebruikt is! Zo kunt u nooit misgrijpen op de juiste middelen. In sommige landen is een verbanddoos in elke truck verplicht.
Brandblusser
Een brandblusser in de truck is in sommige landen verplicht. Zet de brandblusser altijd goed vast, onder handbereik van de chauffeur, maar ook goed bereikbaar voor hulpverleners. Zo kan de brandblusser in geval van nood het beste worden gebruikt. Daarnaast is het ook belangrijk om de conditie van de blusser jaarlijks te controleren.
Gevarendriehoek & markering
In de meeste landen is een gevarendriehoek in elk voertuig verplicht. Naast de gevarendriehoek, is het verstandig om ook andere markeringsmiddelen en reflecterende kleding mee te nemen. Zo is de chauffeur goed zichtbaar wanneer hij naar buiten moet bij pech onderweg.
Andere veiligheidsitems in een truck
Rijdt de truck in bijzondere omstandigheden of is de plek van bestemming een werkplaats? Dan kunnen allerlei andere veiligheidsitems het leven van de chauffeur een stuk prettiger én veiliger maken. Denk hierbij aan gehoorbescherming, veiligheidsbrillen, veiligheidsschoenen, werkplaatskleding of handschoenen. Op zoek naar veiligheidsitems zoals deze? Neem dan een kijkje in de TRP catalogus.