All about the Euro 6 fuel filter
Publication-date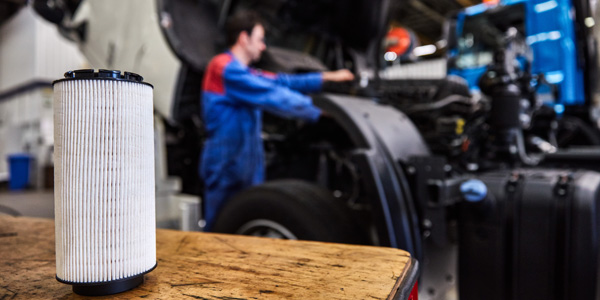 Heavy goods vehicles and engines are becoming increasingly sophisticated and environmentally friendly. Sophisticated technologies and stringent legislatory requirements require a precise manner of working. In order to keep the engine in top condition and avoid problems as far as possible, it is important that the fuel is as clean as it can be. This is why we have developed the Euro 6 fuel filter. Read all about the fuel filter in this article.

The Euro 6 fuel filter is different
The Euro 6 fuel filter is more than just a fuel filter. In contrast to the older models, the Euro 6 fuel filter has a built-in water separator. Whereas this was previously two separate parts, it is now a single component in the Euro 6. This means that there is only one maintenance task to perform. The fuel filter is also designed to accommodate the ever-longer maintenance intervals — practical as well!

In addition to the Euro 6 fuel filter, DAF protects the high-quality fuel system on your truck with the XM6 fuel system protection. The XM6 fuel system protection filters water and coarse contamination from the diesel fuel, thereby acting as a pre-filter. This extra filter is particularly recommended if your DAF truck regularly visits locations where the diesel is of a lower quality.

Why buy an original fuel filter?
DAF trucks are assembled with precision to ensure optimal performance. Genuine DAF parts are specially designed for the truck. The Euro 6 fuel filter is tailor-made for the Euro 6 engine and filters out particles very thoroughly. As a result, older types of fuel filter are not suitable for use in the new generation of trucks.

Be careful with non-original parts; you cannot be sure that a third-party fuel filter will offer the desired degree of filtration and there is a greater risk of damage. This may ultimately lead to a breakdown, unplanned repairs and high costs, which of course you would prefer to avoid.

Maintaining the Euro 6 fuel filter
Your DAF dealer will check and replace the Euro 6 fuel filter during regular maintenance. It is incredibly important that no dirty particles enter the high-pressure injection system while exchanging the filters; this is why we use a specially developed procedure to replace the filters.

The technicians at your DAF dealer have undergone both theoretical and practical training and know exactly what they need to pay attention to. If a technician is not familiar with this procedure, dirt may ingress into the high-pressure injection system, which can lead to high repair costs. Avoid unnecessary breakdowns and problems and always take your truck to your DAF dealer for regular maintenance and to have the Euro 6 fuel filter replaced.

Contact your DAF dealer
If you have any questions about the Euro 6 fuel filter or would like to have it replaced professionally, contact your local DAF dealer. They will be happy to help you!